IT Practice Consulting – Health IT Report –
February 2017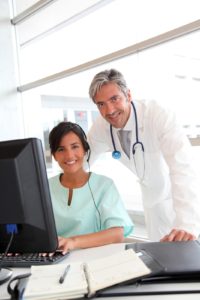 "Direct Interoperability, Recommendations for Clinical Messaging Systems"
Introduction
Coordinated patient care has taken on new meaning in a rapidly developing technological era, particularly in collusion with an increase in mean physician-patient relationships. Delivering on its promise for data-sharing regulation in 2017, DirectTrust – a non-profit heading the movement for accessible patient health data – released a list of over 50 integration recommendations for the direct messaging application in electronic health records (EHRs): Direct Interoperability. Although Direct Interoperability is "now a widely deployed federal standard for secure transport of healthcare information, in use through over 350 electronic health records," DirectTrust researchers assert that the messaging program is often underutilized and misinterpreted by practitioners. Indeed, only a day after the dossier's release, John Elwell, the CEO of Boise, confirmed that customers "are confused over direct messaging and document inquiries and overall they want a better path" in an interview with HealthcareIT News. DirectTrust's report, "Feature and Function Recommendations to the HIT Industry to Optimize Clinician Usability of Direct Interoperability to Enhance Patient Care," segments its findings into three clinical operations relevant to the communication of patient health data: transfer of care message, direct clinical messaging, and administrative messaging. Suggestions are also color-coded by the urgency or significance of a direct messaging function, with red tags indicating immediate modifications and yellow tags representing developmental goals for future messaging innovations. As the 2017 attestation period comes to a close, and potential health IT audits wait on the horizon, implementing DirectTrust's review of clinical messaging operations will enhance the security and optimization of your practice's EHR technology.
Read the entire recommendation report here: Feature and Function Recommendations to the HIT Industry to Optimize Clinician Usability of Direct Interoperability to Enhance Patient Care
Transfer of Care Messaging
Recent surveys conclude that hospitals with successful EHR integration report lower levels of duplicate testing or adverse events associated with improper medication. Transfer of care operations rely heavily on two-way compliance when aggregating comprehensive reports of a patient's medical history; without full participation from both patient-care team members, incomplete reporting could endanger patients and impede diagnostic consistency.
For "Outbound Message Functions," DirectTrust promotes messaging automation as a key component of maintaining timely, reliable communications between practitioners. For example, urgent recommendation TO1, "Real Time Message Delivery, Eliminate Batched Message Send," proposes that automated discharge messages – i.e. messages instantaneously sent to the receiving party upon a patient's release – can allow the subsequent facility to "organize appropriate patient outreach and follow up quickly" with any questions or concerns. Moreover, the organization advocates for "Industry-Wide Standardized Discrete Data Terminology for Problems, Medications, Allergies, and Immunizations" in TO5; DirectTrust maintains that uniform terminology will stimulate "exceptional end user functionality creating tremendous care and documentation efficiencies and preventing transmission error data entry."
DirectTrust suggestions for "Inbound Message Functions" include the same emphasis on automation, with an additional focus on "virtualizing" patients, or building EHR operations that identify established medical profiles through key word associations. Reconciliations of patient medications, active problems, allergies, and immunizations are other red-coded concerns for inbound messages; the report concludes that "the ability for a Direct message to reach the appropriate clinician is significantly delayed if a manual patient matching process is required," which can lead to adverse events.
Clinical Messaging
DirectTrust supports that clinical messaging, usually related to patient-physician communications delivered through a virtual portal, require the highest level of maintenance and functionality. Industry leaders agree that patient engagement is a critical checkpoint in the development of successful interoperability; patients need to be educated on their accessible healthcare IT rights before approving the transfer of protected medical data.
Therefore, DirectTrust clinicians formatted the most significant "Outbound Message Functions" to reflect the basic schematics of direct messaging: attaching files, replying to the physician, and sending "real-time" messages. Although these utilities may appear rudimentary for a messaging system, the report appropriately stresses the importance of optimizing these functions to create efficient, user-friendly EHR services. "Highly desired," orange tags for outbound messages highlight the benefits of supplementary amenities, such as creating distribution lists or directory "favorites" for return patients. In recommendation CO12, the report even suggests streamlining basic messaging tasks by allowing users to "send a message on behalf of another individual with proper authorization and attribution."
Direct reiterates the integral application of automation and uniformity in its segment on "Inbound Clinical Message Functions." Standardized vocabularies for discrete data – including medications, allergies, and immunizations – can help healthcare facilities identify negative trends in patient histories, particularly with "regulation pertaining to behavioral health and/or substance abuse treatment services."
Administrative Messaging
For administrative messaging, DirectTrust deviates from high-priority tasks towards practical, long-term goals for an integrated EHR systems. According to the report, while "secure clinical messaging for case managers, care coordinators, social workers, [and] therapists" acts as communicative foundation for team care organizations, facility departments should also manage messaging profiles. Giving locations and departments the ability to independently operate Direct Interoperability, in tandem with a multi-level configuration of message IDs (organizational, local, etc.), facilitates "receiving the specific information needed to most efficiently and effectively care for every patient."
Final Thoughts
DirectTrust and other health IT organizations continue to emphasize the significance of  transparency and communication in the evolution of an interoperable healthcare industry. Whether your office is trying to connect to another care facility, a patient, or a supporting department, properly implementing an EHR's Direct Interoperability messaging system supports secure data-sharing and medical transparency. Enhance your practice's EHR productivity by consulting with health IT professionals about the implementation of advanced direct messaging services. The New York eHealth Collective (NYeC), a healthcare institution instructing medical facilities statewide in EHR optimization, navigates the regulation and compliance of health IT technologies with federal standards. Moreover, IT Practice Consulting (ITPC) supports practices of all sizes as they navigate healthcare changes, processes and technology, including the successful application of Direct Interoperability.
Contact ITPC today to revolutionize your direct messaging capabilities.