IT Practice Consulting – Health IT Report –
March 2017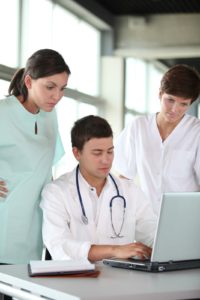 "
EHR Adoption and the 
Data Exchange Incentive Program
"
Introduction
According to the Office of the National Coordinator for Health Information Technology (ONC), "despite the widespread availability of secure electronic data transfer, most Americans' medical information is stored on paper;" an antiquated, unreliable system of building interoperable patient files. Federally recognized Health Information Exchanges (HIE), however, embrace digital reporting – primarily through electronic health records (EHRs) – as a medium for comprehensive patient care, which includes fewer redundant tests and improper medications. For example, the State Health Information Network of New York (SHIN-NY), an organization pioneering the statewide integration of interoperable EHR practices, links eight regional qualified entities (QE) in order to aggregate complete patient profiles from any given range of participating physicians. The goal of this network is to encourage substantial expansions of EHR data collection and deliberate data-sharing procedures among extended, coordinated-care institutions, thus allowing a patient's medical team to "quickly and securely, access up-to-date and accurate clinical information." Fortunately for New York state providers, organizations willing to devote financial and administrative resources to improving electronic health technology can be easily reimbursed through the statewide Data Exchange Incentive Program (DEIP). Commissioned to motivate and support the growth of interoperable resources between local, coordinating healthcare facilities, DEIP contributors receive up to ten thousand dollars of municipal aid as compensation for EHR implementation expenses. By meeting the criteria of a Regulated Facility, Behavioral Health Organization, or Eligible Provider, local practitioners can mitigate health IT expenditures and focus on investing in proactive patient care.
Read more about the ONC's standards for Health Information Exchange here: What is HIE?
DEIP Eligibility
The Center for Medicare and Medicaid Services (CMS) and the ONC have concluded over the years that positive developments in the accessibility and security of healthcare data primarily advances the quality of treatment, and reduces superfluous expenses, in long-term, coordinated-care institutions. The New York Data Exchange Incentive Program (DEIP) reflects these findings in its recently expanded list of eligible healthcare providers, broken down into Regulated Facility, Behavioral Health, or Eligible Provider categories. Regulated facilities, end-of-life organizations focused on collaborative patient care, include Article 28 nursing homes or diagnostic treatment centers, Article 36 certified home-care agencies, and Article 40 hospice programs. Psychiatric and psychological providers are also viable contributors to DEIP, but must be licensed by the New York State Office of Mental Health (OMH) or Office of Alcoholism and Substance Abuse Services (OASAS) to qualify as Behavioral Health organizations. Finally, primary care physicians or hospital services only need to attest to one year of Medicare or Medicaid Meaningful Use to be considered for DEIP enrollment.
Congruent with organizational structure requirements for DEIP consideration, participating providers must attest to their effective administrative applications of EHR technology. At minimum, DEIP contributors must operate an ONC certified EHR that conforms to HIPAA privacy standards and successfully exchanges aggregate patient data with a regional qualified entity (QE). Medicaid providers are also expected to provide records of their Fee-for-Service, Managed Care, or Health and Recovery Plans (HARP) compensation services. Finally, because the program intends to incentivize EHR adoption for local, unsponsored healthcare organizations, DEIP will not accept providers that already contribute data to SHIN-NY or receive additional reimbursement payments through a comparable program.
Data Contributions Requirements
Upon entering the Data Exchange Incentive Program (DEIP), a participating healthcare organization commits its collection of patient data to a minimum contribution requirement, depending on its eligibility categorization. Extended-care Regulated Facilities, for example, communicate Common Clinical Data Sets (CCDS) information to their QEs; among basic patient history information, the data collected can include the patient's preferred language, smoking status, medications, allergies, lab results, immunizations, discharge instructions, and more. Behavioral Health organizations will provide "five specified Core elements," – encounters, demographics, procedures/service, individualized service plans, diagnoses – as well as three additional treatment elements: medications, labs, and allergies. In addition to the aforementioned five specified data elements, the Medicare and Medicaid EPs "seven Core elements" include required medication and lab information to maintain appropriate contribution. More importantly, SHIN-NY encourages participating entities to provide as many clinical data sets as is reasonable to expect.
Incentive Milestones
Incentives accrued through DEIP participation are direct reimbursements from the U.S. Department of Health (DOH), distributed by the New York eHealth Collaborative (NYeC). Payments are streamlined through a two-step compensation system, referred to as incentive milestones, and only require an organization's demonstration of eligibility. Each new DEIP organization receives two thousand dollars for signing the data contribution enrollment agreement; another eight thousand dollars are allocated to the contributor after it establishes a verifiable connection with its regional qualified entity (QE). Eligible providers must also attest to functional care documents, C-CDA, data exchange with their QEs.
Read more about the Data Exchange Incentive Program here: HIE Adoption – Data Exchange Incentive Program (DEIP)
Final Thoughts
Electronic health records (EHRs) have improved patient-care nationwide by providing medical practitioners with the timely, complete healthcare information necessary for comprehensive treatment. While implementing and optimizing a new EHR may seem daunting for smaller organizations, the New York State Data Exchange Incentive Program (DEIP) provides financial assistance for eligible providers dedicated to the advancement of interoperability. Most importantly, the DEIP is a limited municipal aid program and will distribute incentives on a first-come, first-served basis. The New York eHealth Collaborative (NYeC) will accept rolling DEIP enrollment applications until September 1st, 2017. Furthermore, with over a decade of experience in choosing, integrating, and optimizing EHRs, IT Practice Consulting (ITPC) will help any practice navigate the health information requirements for the DEIP's extensive compensation services.
Contact ITPC today to discuss your eligibility for the DEIP.