IT Practice Consulting – Health IT Report
–
April 2017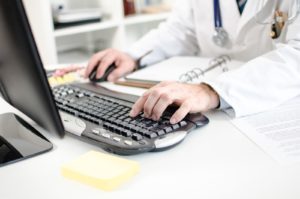 "CMS Proposes MACRA 2018 Reporting Adjustments,
Issues Request for Information"
Introduction
The Centers for Medicare & Medicaid Services (CMS) has announced preliminary adjustments for the 2017 and 2018 Electronic Health Records (EHR) Incentive Programs, with a renewed focus on reducing ineffective reporting requirements for eligible hospitals and long-term care facilities. In a statement introducing the proposal report, CMS Administrator Seema Verma confirmed that, "Medicare is better able to support the work of dedicated hospitals and clinicians who provide the care that people need with these more flexible and simplified approaches." Furthermore, the CMS fact sheet further emphasized that "the proposed rule aims to relieve regulatory burdens for providers" by offering participating hospitals the flexibility to balance positive patient outcomes with quality reporting practices. In addition to the proposed adjustments, the CMS officially invited medical professionals to engage in a Request for Information (RFI) regarding efficient reporting practices; responses will shape future regulatory guidelines for inpatient and extended-care hospitals. Comments and suggestions for both the proposed rule and RFI will be accepted until June 13, 2017 through the Federal Registrar.
Read the entire 2018 MACRA proposal here: Fiscal Year (FY) 2018 Medicare Hospital Inpatient Prospective Payment System (IPPS) and Long Term Acute Care Hospital (LTCH) Prospective Payment System Proposed Rule, and Request for Information
Request for Information (RFI)
Widely-held criticism over complicated MACRA implementation has prompted the CMS to issue a RFI, which "welcomes feedback on positive solutions to better achieve transparency, flexibility, program simplification and innovation." According to the proposal fact sheet, the CMS aims to determine how "Medicare can contribute to making the delivery system less bureaucratic and complex," aggregating professional insight to improve the effectiveness of regulatory reductions. Indeed, the CMS encourages any recommendations on redesigning payment portals and technologies; streamlining or eliminating daily operational activities; enhancing substantial patient-doctor relationships; and building support systems that facilitate optimal inpatient and extended care services. Providers that wish to participate in this RFI are expected to report "clear and concise proposals that include data and specific examples" in order to strengthen the integrity of upcoming input adjustments. Finally, feedback from participating medical professionals should establish any "novel legal questions" regarding quality reporting policies, if filed with a comprehensive analysis of the CMS' circumstantial authority.
Contribute to the CMS Request for Information here: The Federal Register
Proposed Changes to the 2017 and 2018 MACRA Reporting Periods
The CMS' modifications to existing payment policies and reporting standards primarily aim to relieve administrative burdens for participating healthcare facilities, particularly in regards to inpatient and long-term care admissions processes. Most notably, the CMS has suggested a "one year regulatory moratorium on the payment policy threshold for patient admissions in long-term care hospitals" while the agency continues to evaluate and overhaul outdated protocols in extended-care organizations. Hospitals and eligible providers benefiting from EHR Incentive Programs or other Medicare compensation plans should read the proposal fact sheet to determine definitive changes to their 2017 and 2018 MACRA filings; the most notable proposals are listed below:
In 2017, eligible hospitals and critical access hospitals (CAH) that have demonstrating Meaningful Use during, or prior to, 2017 would only report "two self‑selected quarters of CQM data," instead of the entire calendar year.
In 2017, hospitals benefiting from the EHR Incentive Program and the Hospital Inpatient Quality Reporting (IQR) program would document a minimum of six self-selected of the available CQMs (previously eight).
In 2018, CMS would reduce EHR attestation periods from a full calendar year to any continuous 90-day period.
In 2018, CMS would not penalize eligible hospitals, eligible practitioners, and critical access hospitals (CAH) that demonstrate an inability to provide Meaningful Use as a result of their certified EHR technology being decertified under ONC's Health IT Certification Program.
Read the proposal report fact sheet here: CMS proposes 2018 payment and policy updates for Medicare hospital admissions, and releases a Request for Information
Final Thoughts
With nearly two-thirds of the 2017 MACRA reporting period still ahead, the CMS is proactively integrating public commentary into the development of efficient, patient-centered payment guidelines and policies. The CMS requests regulatory insight from the participating medical community, in an attempt to relieve eligible practitioners and hospitals of adverse or subjective reporting standards. If the recent proposals are approved for immediate implementation, "the CMS projects that hospitals would see a total increase in inpatient operating prospective payments of 2.9 percent in fiscal year 2018."
For local community hospitals and extended-care facilities, federal incentive programs work to develop internal investments in health information technology and patient-centered practices. The New York eHealth Collaborative (NYeC) assists eligible hospitals and practitioners statewide in navigating the ever-transforming landscape of Medicare compensation programs. Moreover, IT Practice Consulting (ITPC) collaborates directly with medical administration to optimize and update the electronic health systems integral to receiving maximum compliance benefits. Consult with a healthcare information technology professional today and learn how changes to 2017 and 2018 MACRA reporting standards can positively affect your practice.
Contact ITPC for more information on the CMS proposal and subsequent approvals.