IT Practice Consulting – Health IT Report –
May 2017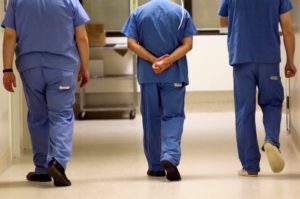 "ONC Report, Proposed Interoperability Standards Measurement"
Introduction
The Office of the National Coordinator for Health Information Technology (ONC) is requesting a nationwide review of its latest initiative to establish interoperable standards, the "Proposed Interoperability Standards Measurement Framework." According to the report, the framework is meant to assess "the nation's progress in implementing interoperability standards in health information technology (health IT) and the use of the standards as a way to measure progress towards nationwide interoperability." Broken down into a review of current interoperability standards, proposed measurement standards for the development of EHRs, and proposed measurement standards for end users, the ONC identifies which industry variability factors are inhibiting the standardization of health information technologies. Potential long-term benefits from developing an interoperability standards foundation include empowering the emerging Interoperability Standards Advisory (ISA), updating the ONC estimation of standards utilized, and providing stakeholders with information vital to comprehensive decision-making. Consequently, the ONC is inviting health care providers, health IT software developers, and exchange networks organizations alike to publicly contribute suggestions for its proposed framework, as well as suggest realistic implementation programs for interoperability standards.
Read the Proposed Interoperability Standards Measurement Framework here: ONC Releases Interoperability Measurement Framework
An Overview of Current Standards, Implementation
An analysis of the ONC's crowdsourcing activities indicates that health IT software developers and exchange network services are likely the most accurate, reliable sources of information for the implementation of interoperability standards within their products and services. Health IT developers can track operational data for entire product lines, including which systems include what interoperability standards and how many users participate in those products. Unfortunately, the ONC notes that the rapidly expanding technological capabilities of EHR systems, including frequent adjustments to the software, complicate the accuracy of the surveyed data; end users often skip updates they deem inconsequential to their current operations.
As for the ONC's evaluation of current standards use by participating health organizations, the report identifies architectural variations, limited data access, and the optionality of standards as the most significant barriers to effective interoperability development. Architecture plays a key role in the collection of product and services implementation data because some federated systems are simply incapable of data tracking, skewing the results. Furthermore, health IT developers and exchange networks often opt for the fiscally conservative EHR design, prioritizing the collection of quantitative data and disregarding valuable qualitative assessments, such as vocabulary standards and end user feedback.
Overall, the ONC cites the absence of enforceable interoperability legislature as its greatest concern for the future of data-sharing. Drawing data from a national survey of health information technology professionals, a new study conducted by the University of Michigan Schools of Information and Public Health concludes that a quarter of respondents intentionally engaged in information blocking. Without proper legal authority to charge uncooperative organizations with civil or punitive damages, the ONC and ISA can only distribute incentives and provide a comprehensive framework for their participating users.
Read more on the information blocking study here: Information Blocking: Is It Occurring and What Policy Strategies Can Address It?
Interoperability Standards Implementation in a Health IT Product
The ONC's organizes its proposed measurements for interoperability standards into three categories that follow a standard's lifecycle, or "the process by which standards are developed, implemented, and then subsequently used." Public reporting of development plans, available products, and subscribed end users was the primary focus of this objective, with the ONC further urging healthcare organizations to register all services with the ONC Certified Health IT Product List. Transparency in EHR design and application will allow health IT developers to regulate compatible systems, streamlining their transactions (i.e. communications) and strengthening the coordination of the healthcare community.
Use of Standards by End Users to Meet Specific Interoperability Needs
Proposed measurements for the practical application of interoperability standards focuses on identifying situations in which the standards are not properly or fully functional in order to craft guidelines that encourage universal participation. Therefore, the ONC suggests that annual reporting on the standards utilized by end users, transaction volumes, and levels of software conformance will indicate which organizations sufficiently meet interoperability standards. Offering stakeholders the relative percentages of end users per product, as well as tracking transaction volumes "to identify the trajectory of growth or decline of a standard's use," will satisfy the ONC's commitment to cultivating an accessible, transparent health care platform by 2024.
Final Thoughts
The "Proposed Interoperability Standards Measurement Framework Report" confirms the ONC's growing prioritization of interoperability for at least the next decade of the health information technology advancement, fulfilling its promise for a return to a "patient-centered" focus. Healthcare leaders and information technology associates should contribute to the public commentary by July 31st, 2017, with an emphasis on providing practical insight on the reliability of interoperable standards measurements. ­­Furthermore, the ONC's movement toward standardizing data exchange platforms could affect what systems will be considered acceptable in the coming years and necessitates vigilant scrutiny of ongoing interoperable legislation. The New York eHealth Collective (NYeC) has decades of expertise in navigating the emerging interoperability standards, federal incentive programs, and regulatory changes for medical organizations statewide. For healthcare practitioners looking to optimize their EHR systems, particularly interoperability standards, IT Practice Consulting (ITPC) offers a diverse range of services that ensure accurate utilization and reporting of eligible systems.
To learn more about the implementation and regulation of interoperability standards, contact IT Practice today.
Contribute to the Proposed Interoperability Standards Measurement Framework here: Proposed Interoperability Standards Measurement Framework Public Comments