IT Practice Consulting – Health IT Report –
July 2017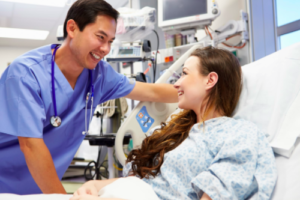 "Study Discloses Top Reasons
Patients Value EHR Management"
Introduction
After nearly a decade of controversial discourse, the movement towards electronic health records (EHR) management has centered on interoperability, or the improvement of patient-focused care through open communication between primary, emergency, and coordinated-care medical professionals. Although leading healthcare experts have questioned the security of electronic data sharing, given its prevalent use of vulnerable technologies (smartphones, cloud storage, etc.), a new study of 260 patients provides evidence that access to reliable health information increases patient engagement and satisfaction. The Beth Israel Deaconess Medical Center, which collaborated with health information technology advocate OpenNotes, reports that an aggregate 98 percent of its participants rated EHR technology as "valuable" after partaking in a patient portal that digitized doctors' real-time notes during appointments. Lead author Macda Gerard, an OpenNotes research assistant, expressed frustration with the slow progress of actualized "patient-centered" technologies among the medical community, noting that, "We've heard very little about what matters to the patients themselves, perhaps because information sharing has been largely one-way and passive." Fortunately, Gerard's survey successfully ranked which attributes were most desired in portal EHR technology, using keywords for the open-end question bank to match patient experiences and critiques.
Read the entire report in the Journal of Medical Internet Research: What Patients Value About Reading Visit Notes: A Qualitative Inquiry of Patient Experiences With Their Health Information
Ability to Confirm Instructions, Prepare for Next Steps
Researchers with The Beth Israel Deaconess Medical Center and OpenNotes confirm that an industry-wide focus on the bottom line of healthcare services, instead of preventative care, directly influences patients' perspectives of "rushed" or confusing appointments. One respondent claimed that a common "white coat syndrome" caused problematic recall of issues discussed with the doctor; others added that access to their healthcare instructions removed the "overwhelming" burden of correctly remembering the details of appointments where they were "not feeling well or were too overwhelmed." These findings also indicate that this portal technology comes with the fiscal benefits of decreasing redundant treatments or superfluous testing.
Read more on EHRs mitigating redundant procedures here: Studies Show that EHR Technology Leads to Improvements in Patient Care
Quick Access to Information and Results
According to the report, patients were overwhelmingly positive about the immediate accessibility of test results and additional physician observations, which one participant found particularly valuable because "they provide context" for complicated medical issues. "The records [laboratory results] show the numbers," one respondent recorded, "but the notes provide the interpretation in regards to my personal health status." In the information age of WebMD and countless healthcare blogs, patients benefit from direct, concise communication with their primary physicians and any other supporting professional.
Confirmation of Positive Relationships
Noted as "Positive Emotions" in the report's results, researchers have also concluded that patients who read personalized notes on an EHR portal had greater levels of respect and satisfaction with their doctors and staff. In one positive response, the patient reported that, "I like reading my notes because they keep me uplifted." Studies show that public consumers considered medicine to be a "highly ethical" in nature, but the amount of Americans that "have great confidence" (read: trust) in their primary care physicians dropped to 34 percent by 2012. Therefore, the validation produced through attention-to-detail methodologies and meticulous note taking during appointments may in turn ensure communicative patient-physician relationships for participating practitioners.
Read more on public perspectives of U.S. Medicine and trust: Public Trust in Physicians — U.S. Medicine in International Perspective
Reliable Information Sharing for Care Partners
Undoubtedly just as vital as the medical professionals in a patient's life, and equally deserving of transparent communication, are the long-term care partners (CPs) that support vulnerable or disabled individuals in their medical decisions. Portal usage under the The Beth Israel Deaconess Medical Center and OpenNotes EHR research survey established multi-device platforms to encourage participation of CPs in the education of patients' medications or treatment plans. "Reading the notes can only make me come to my appointments better prepared," one patient wrote, "and help my team understand what issues are important to me and what I need them to hear."
Final Thoughts
Meaningful Use and other federal incentive programs may assist in the preliminary implementation and reorganization of EHRs, but in an era of rapid technological growth, there are always more improvements and updates available for existing systems. While the New York eHealth Collaborative (NYeC) provides countless security and assessment services to local health communities statewide, it also guides first-time users through trending EHR modifications in its public resource blogs and newsletters. Moreover, a brainstorming session with IT Practice Consulting (ITPC) offers a comprehensive health information technology education and tips, including optimizing patient portals to actualize the practices of a patient-centered organization.
To make your move towards patient-centered, reliable EHR management, contact ITPC today.