IT Practice Consulting – Health IT Report – March 2016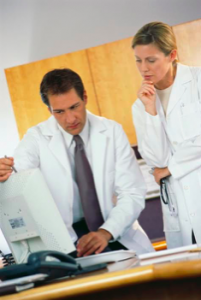 Studies Show that EHR Technology Leads to Improvements in Patient Care
Medical provider and physician participation in Electronic Health Records (EHRs), along with their Meaningful Use implementation programs, has risen steadily in recent years. One government report, titled "Adoption of Electronic Health Record Systems among U.S. Non-Federal Acute Care Hospitals: 2008-2014," found that EHR usage grew from 9% in 2008 to 76% in 2014. Furthermore, while physician employment and acceptance of health information technology improved by nearly 50% since 2004 ("Office-based Physician Electronic Health Record Adoption: 2004-2014"), a focus on patients' benefits has become integral to meaningful users' agendas.
Main concerns for EHRs emphasize the security of patient information, as well as accessibility. Fortunately, recent movements in the Health IT community highlight the benefits, present and upcoming, of electronic data collection and analysis by medical organizations. Here are a few reasons why effective implementation of Electronic Health Records is a valuable asset to your organization's patient care:
Patients are Becoming Increasingly Comfortable with EHR Technology
A nationwide survey from the Office of the National Coordinator for Health IT evidences that patients showed increasing positivity toward EHRs and data-sharing in recent years. Between 2012 and 2013, a little under half of patients surveyed stated they were "very concerned" about the privacy of their medical information; by 2014, this statistic dropped to less than a third of participants. Moreover, approximately 75% of patients surveyed from 2012 to 2014 supported the significance and application of EHRs, "despite any potential privacy or security concerns."
Read more about ONC's study here:
ONC: Patient comfort levels with EHRs, data-sharing on the rise
EHR Analysis Prevents Medication Abuse
The implications of EHR innovation expand beyond patient security into diagnostic benefits. The Marshfield Clinic, located in Marshfield, Wisconsin, included opiate prescription histories that were incorporated directly into a patient's EHRs and monitored closely by medical practitioners. Dr. Eric Penniman, the Medical Director for Primary Care, asserts that this technology highlights trends in medication abuse: "It's very easy to see who is getting what prescriptions before making treatment decisions and giving out new prescriptions." This health initiative has drastically improved patient treatment in Wisconsin, where opiate overdose killed more residents than motor vehicle accidents in 2013 (Wisconsin Department of Health Services).
Read more about the Marshfield Clinic's study here:
New technology in electronic medical records helps spot opioid misuse
EHR Analysis Detects Undiagnosed Conditions
Another notable study, published by Ariana E. Anderson, PhD in the Journal of Biomedical Informatics, claims EHR analysis is more comprehensive in diagnosing Type II diabetes than conventional methodologies. The retrospective study used both full and partial EHR data from 9,948 patients in order to determine the likelihood of detecting Type II diabetes; accuracy levels concluded at 81.3% for full EHRs, 79.6% for restricted EHRs, and 74.8% for conventional diagnostic techniques. "Implementing EHR screenings would aggregate information that is already available," Anderson concluded, "Moreover, we anticipate that future models will use EHRs to screen not just for common diseases, but also less common diseases."
Read more about Anderson's study here:
EHRs could help identify undiagnosed Type 2 diabetes
Final Thoughts
In New York State, improvements to patient care using the extensive capabilities of EHRs has become a medical community priority. With the demand for accessibility and security of health information technology on the rise, organizations depend on correct and effective implementation of EHRs to compete on local and statewide levels. The New York eHealth Collaborative (NYeC), a program through the New York State Department of Health, collaborates with medical practices to achieve the essential tools needed to become meaningful users of EHRs. Understanding the significance of patient health and treatment, NYeC advances state and federal grants as means to optimize health information technologies among providers. IT Practice Consulting, Corp assists in these successful implementations of new Health IT workflows, as well as advising ongoing meaningful users in New York State.
Is your practice looking to enhance its application of EHRs? Contact IT Practice Consulting today.