IT Practice Consulting – Health IT Report –
January 2017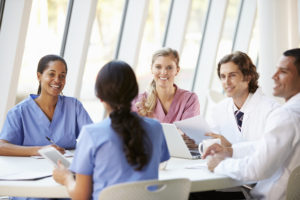 "DirectTrust Predicts Five Emerging Interoperability Trends for 2017"
Introduction
January 2017 brings the long-awaited implementation of the "Pick Your Pace" MACRA payment programs. Fortunately for medical providers and end users, the political turmoil of 2016 did not undercut  the continued efforts of healthcare industry giants to unify federal management of health information technology. Last November, at the crux of political uncertainty, the Office of National Coordinator for Health Information Technology (ONC) submitted its "2016 Report to Congress on Health IT Progress," in an attempt to ascertain educated, bipartisan support for federal regulation of interoperable, data-sharing practices. Furthermore, DirectTrust – "a non-profit, competitively neutral, self-regulatory entity" that lobbies for accessibility of personal health information (PHI) – instructed the administration on the significance of "holding the gains" of recent health IT advancements in its recommendation letter presented in late December. Only a month later, DirectTrust President and CEO David C. Kibbe, MD, MBA has announced a personal, comprehensive evaluation of emerging interoperability trends in 2017, given anticipated medical reforms under the new administration.
Read the DirectTrust recommendation letter here: DirectTrust to Trump: Heed these 4 Pieces of EHR Interoperability Advice
Read the entire DirectTrust press release here: DirectTrust Outlines Five Health Information Technology Trends to Watch in 2017
"Efforts to repeal ACA and pass Medicare legislation will lead to months of uncertainty."
If a Republican Congress can successfully repeal the Affordable Care Act (ACA), after years of promising its constituents a privatized healthcare reform, the future of Medicare and Medicaid incentive programs is an emerging dispute. Kibbe asserts that the ambiguous transition to "national Medicare legislation" will be characterized by the phrase "more questions than answers;" namely, DirectTrust anticipates that replacing the ACA will prompt months of inaction, or industrial paralysis, including "failures to invest in health IT infrastructure and innovation." Overall, DirectTrust advises that hospitals and independent practitioners maintain appropriate levels of MACRA implementations for 2017, while remaining informed on developing legislation.
"Health IT economy will remain stable as industry continues to leverage health IT to improve care coordination and interoperability."
The ONC's "2016 Health Report to Congress on Health IT Progress" established the vital relationship between interoperable health IT standards and patient-care coordination, primarily through evolving methods of secure data-sharing. DirectTrust similarly recognized the continued importance of "holding the gains" for collaborative healthcare information systems in its list of health IT recommendations addressed to Trump's administrative transition team. In his latest address, Kibbe predicts that interoperable essentialism will remain a pillar of medical legislation and, therefore, the transfer of Congressional control will not instigate any immediate changes to the healthcare industry or economy. According to Kibbe, "the themes of using health IT to improve care coordination, to manage patient populations through better collection and data use, and the value of advances in telemedicine, will continue to be heard and supported by both the private sector and the federal government in a bipartisan fashion."
"Value-based payment and risk sharing arrangements will gain momentum."
Despite assurances that Congress will continue to prioritize health IT and interoperable regulation in the upcoming years, DirectTrust recognizes that the reformation of the ACA, including its derivative legislatures, may lead to serious restructuring of MACRA payment programs.  Kibbe urges the medical community to expect a "gradual but steady increase in the momentum by which value-based payment and risk sharing arrangements influence policies aimed at EHRs," as well as their provider organizations. DirectTrust reports that over 90 percent of hospital and 70 percent of independent providers have successfully adopted some form of EHR technology; Kibbe notes that this extensive EHR integration, together with the binding 21st Century Cures Bill, will protect the statutory integrity of MACRA for the foreseeable future.
"Security will finally become important to the health IT market."
A recent torrent of hospital ransomware hacking – a faction of cyberterrorism that focuses on the illegal possession and peddling of confidential patient information – has forced the healthcare industry to acknowledge shortcomings in health IT security. Although DirectTrust failed to promote specific technological advancements, Kibbe remained positive that "issues of encryption, authentication to networks and identity management" would "finally" be prioritized in 2017 healthcare reform. Kibbe's optimism appears warranted, given the Center for Medicare & Medicaid Services (CMS)' recent $700 million funding of secure, publically accessible application program interface (API) tools in December 2016.
"Emergent health technologies will attract a lot of attention."
Concurrent with the mounting investment in healthcare information security, DirectTrust predicts that the medical industry will soon face the "wild card" scenario of health information technology catering directly to patient possession of personal health data, not providers. "With emergent health technologies capable of aggregating personal health data from multiple providers, managing it for clinical guidance, and channeling big data under the control of patients," Kibbe foresees momentous partnerships forming between medical organizations and technology giants: Microsoft, Google, IBM, etc.
Final Thoughts
While it may be impossible to definitively anticipate how the nation's shifting political landscape will impact ongoing and impending healthcare legislation, DirectTrust's press release ensures providers that 2017 will preserve MACRA payment programs and act as a transitional year for any imminent legal modifications. DirectTrust President and CEO David C. Kibbe, MD, MBA encourages medical professionals to remain educated and informed about Congress' movement towards healthcare reform, while still maintaining federal standards for MACRA 2017 implementation. "We've made significant progress in the areas of increased electronic health records adoption and interoperability during the past four years," Kibbe noted, in a statement. "Our hope is that the momentum established to this point will continue under the new administration."
Now more than ever, the integrity of EHR security and adoption is crucial to the development of personal health information technology. Don't allow political uncertainty to interfere with your practice's successful completion of MACRA protocols or advancing interoperability – prepare for the future of health IT today by optimizing your EHR use and reporting.
The New York eHealth Collaborative (NYeC) assists thousands of provider organizations statewide in navigating the complexities of governmental incentive programs and federal regulations for health IT. Moreover, IT Practice Consulting offers decades of experience in auditing, executing, and improving EHR systems for qualified medical professionals, in order to support local providers and community health.
Contact ITPC today to optimize your organization's current practices and prepare for its future.